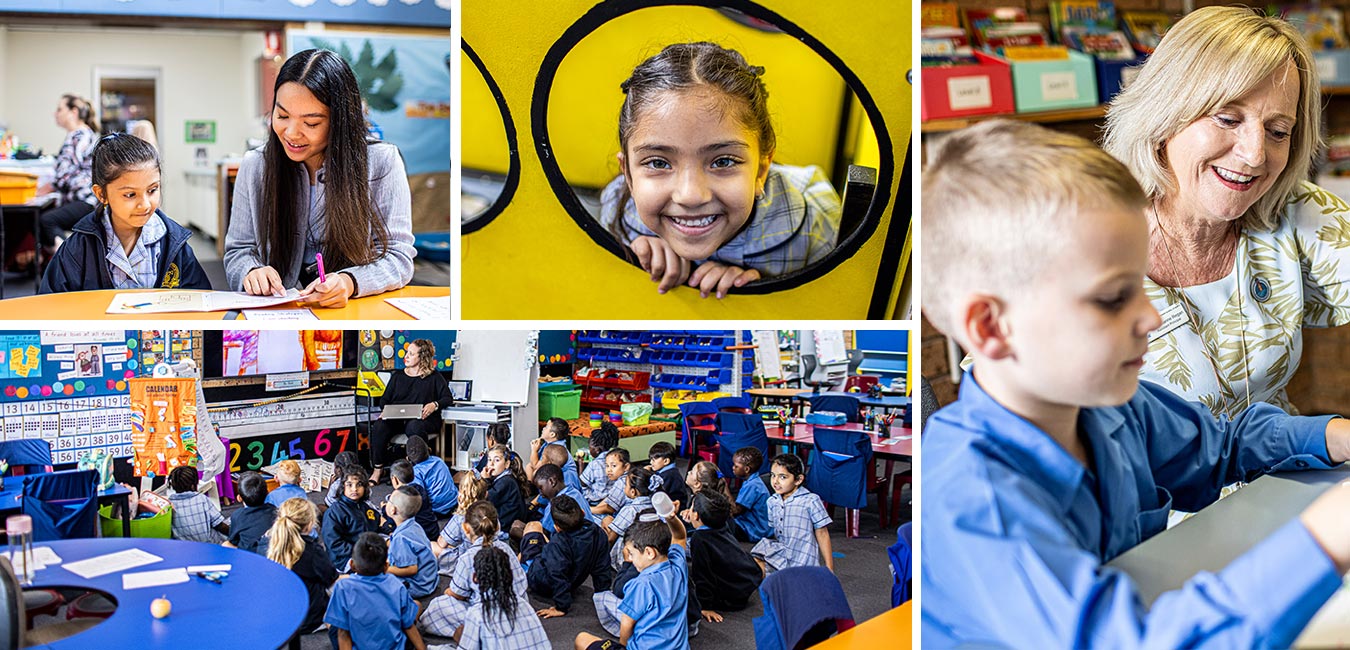 Whether teaching or in the office Our Lady of the Rosary St Marys staff are part of a system committed to transforming the lives of every student, every day.
Our highly qualified, dedicated and professional teachers work collaboratively to provide the best learning opportunities for each student. We see ourselves as learners, continually seeking ways of improving our teaching and learning techniques, the diversity of learning experiences provided for each child, and the quality of the overall learning environment.
Our enthusiastic and highly skilled support staff help to provide a safe and supportive environment and work to enable the teachers to put maximum time and effort into the children's learning.
If you wish to contact a member of staff email olorstmarys@parra.catholic.edu.au or phone on 8856 8301 weekdays between 8:15 am and 3:30 pm.
2023 Leadership Team
Principal
Mr Michael Siciliano

Assistant Principal
Mrs Julianne Regan

Religious Education Coordinator
Mrs Teresa Wakeling


Stage Coordinators

Instructional Leaders

PBS4L Coordinator

Mrs Tara Eisenhuth (K - 2)

Mrs Teresa Wakeling (Stage 2)

Miss Karlie Beckhaus (Stage 3)

Mrs Kelly Dunn K-2

Mrs Julianne Regan 3-6

Miss Monica Lopez
Classroom Teachers
Early Stage 1 - Kindergarten
(KBlue) Mrs Fiona Van Doorn

(KGold) Ms Sophie Nechepurekov

Stage 1 - Year 1
(1Blue) Miss Amelia D'Souza
(1Gold) Miss Chantelle Zuza

Stage 1 - Year 2
(2Blue) Mrs Tara Eisenhuth

(2Gold) Mrs Jessica Hudson

Stage 2 - Year 3
(3Blue) Miss Lesley Clark

(3Gold) Miss Elise Smallwood

Stage 2 - Year 4
(4Blue) Miss Monica Lopez

(4Gold) Miss Hannah Sattore
Stage 3 - Year 5
(5Blue) Ms Ellie Coledan

(5Gold) Mrs Megan Hilder
Stage 3 - Year 6
(6Blue) Miss Karlie Beckhaus

(6Gold) Miss TJ Cakmak

Additional Staff

Diversity Support Team


ES1 & Stage 1

Stage 2

Stage 3

Mrs Kim Patchell (Diversity Leader)

Mrs Natalie Bell, Mrs Danica Danev, Mrs Bridgette Millevoi, Mrs Naomi Hanshaw

Mrs Melissa Brglevski, Miss Emily Masterfield

Mrs Sally Turner, Mrs Kathryn Burnett, Mrs Emma Taylor, Ms Felicity Goodchild

Specialist Teachers
Mr Blake Morfoot - PDHPE
Mrs Vanessa Butchard - Creative Arts/Music
School Finance
Mrs Anne Rando
School Administration / Enrolment
Mrs Debbie Smith
School Support Officer/Library
Mrs Rebecca Weston
Teacher Assistants
Mrs Sognia Piccirilli
Mrs Debbie Issa
Mrs Maria Moutzouras

Mrs Lori McMillan
Mrs Carmen Grech


Learning Technology Coordinator
Mrs Megan Hilder
Sport Coordinator
Miss TJ Cakmak
Sudanese Liaison Officer
Mr Deng Athum
School Counsellor
Ms Casey Barber
Learning Technology Trainee
Mr Soham Mangal
Maintenance
Mr Dom
Cleaner
Mrs Immaculata Gaudioisi