Students share their rainforest research
27 Jun 2014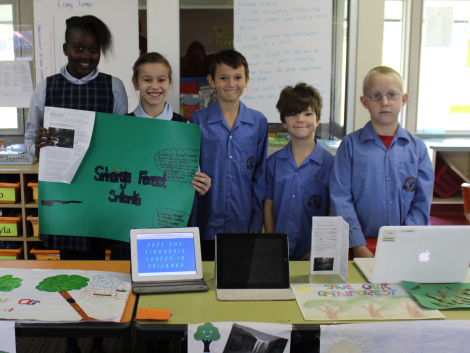 Students researched the Sinharaja Forest
Year 5 students from Our Lady of the Rosary, St Marys shared their rainforest research as part of their project-based learning.
Working in teams, students were challenged to showcase an endangered rainforest and present a speech to educate and inform visitors about the current issues threatening their chosen rainforest.
Visitors voted for the team - and rainforest - most deserving of a $10,000 conservation grant. The fictitious scenario gave students a chance to consider real-life problems and present solutions around the preservation and conservation of the world's rainforests.
Students were given the freedom to work on the rainforest of their choice and worked in teams to research the animal and plant life, natural resources and human impact and environmental concerns. They developed predictions and solutions for the future of the rainforest and then devised creative presentations to persuade visitors that their chosen rainforest was most worthy of financial assistance.
As well as providing Year 5 students with an authentic presentation experience, the event allowed visiting students from Year 4 to extend their knowledge and practise skills in analysing and reviewing information and drawing conclusions based on evidence.
Principal Allan Jones said students have been learning cooperatively, doing some independent research and sharing their learning with others.
'Students learn from teaching others, it's clear the students are very passionate about what they're researching and it's deep learning,' said Allan. 'This is just one example of how our students are learning for today's world and they recognise that it's their job to make a positive difference in the world,' he said.
Teacher Amanda Casis says that the project-based learning unit integrates learning in a range of areas including literacy, environmental studies, science and technology.
'By presenting to an audience, their learning becomes authentic and purposeful which leads to a higher level of engagement – something we strive for in all our learning,' said Amanda.
Year 5 students Fran Sidoruk and Ben Seck studied the Ecuador rainforest.
'It was fun to learn about the different animals in the rainforest and how big it is in comparison to Australia,' said Ben. 'The rainforest in Ecuador is bigger than the entire state of Victoria, which is much bigger than I first thought,' he said.
Facebook | OLOR
01 Dec 2023

THANK YOU OLR! 🥳🥰 Today the St Vincent De Paul representatives collected the hampers for our 2023 Christmas appeal. Thank you to our parents, students and staff for your very generous donations. 🎊🎁💕

29 Nov 2023

🏅🏅🏅🏅Our Lady of The Rosary are proud to present our 2️⃣0️⃣2️⃣4️⃣ Sport Captains 🏅🏅🏅🏅 🚩🚩Blaxland - Nikki Zigouris and Charbel Andary🚩🚩 🟢🟢 Cook - Kasey Hamilton and Kobe La Rosa🟢🟢 🎽🎽MacKillop - Raymond Gai and Michael Sackey🎽🎽 🌕🌕Mitchell - Anei Akon and Eman JalNong🌕🌕 We can't wait to hear you cheer your teams on in 2️⃣0️⃣2️⃣4️⃣📣 A huge congratulations 👏🏼👏🏼👏🏼👏🏼 to all students who stood up and presented themselves for Sport Captain. You should all be very proud 😊😊😊😊